WordPress is the most used (CMS) Content Management System around the world as it gives us liberty but also comes with few limitations and many more things. Having a website isn't enough we have to create a stunning and mesmerizing website so that we can showcase our work in an extraordinary way. Most probably if you are a beginner a question may come to your mind "How you can do that task without writing a single line of code"?
Valid question, I would have also asked the same question. The answer to your question is " Page Builders", here in this post we are going to compare top-notch Page builders plugins out there in the market: Beaver Builder Vs Elementor Vs Thrive Architect
A page builder mainly allows you to create, edit along with customizing all of your website layout just without writing any single line of code.
Most of the time when many WordPress beginners create a website, they basically find it difficult to change and customize the page layouts right on their websites. With the help of a page builder, you can easily develop and edit web pages along with presenting your work in an extraordinary way.
Most of the time it is really very hard to customize for one who is not having any prior knowledge of coding in (HTML / CSS). But with the help of these page builder plugins, you can create a stunning website without writing any single line of code.
The important thing is that the WordPress plugins marketplace has taken out tons of decidedly different options. Some of them are free, some of them come with drag and drop visual building tools and some of them will offer back-end and front-end editing also some of them have a robust design feature. As you know in this digital world possibilities are endless.
The aim of this post for Beaver Builder Vs Elementor Vs Thrive Architect, is to compare and give insights on following well-acclaimed page builders:
Here we are going to compare these Page Builder Plugins on the basis of features, ease of use, compatibility with the themes and add-ons, reliability along with price, support, and many more things. So let's start the most awaited comparison of top-notch page builder plugin out there in the market.
Beaver Builder Vs Elementor Vs Thrive Architect: In-Depth November 2023
Beaver Builder Review
Beaver Builder is one of the best choices available for bloggers and web professionals. As Beaver Builder is an advanced content builder that has the complete drag and drop support. But most importantly, it comes with the fronted editing interface that is one the best part of this stunning page builder plugin.
Here the easy drag and drop editor will let you see how your pages will appear right to your visitors when you're building them live. Beaver Builder also offers a free version and if you really want tons of extraordinary features then you should go for its premium version of the plugin.
As this plugin also supports the posts, pages along with the custom post types along with that you will be getting pre-made templates right for a landing page, About Pages, Service Pages along the content page too. Here you can also apply CSS classes easily right within the modules just for the full customization.
This plugin will easily work with your present theme and everything that is being developed by you will be fully mobile responsive. With this plugin developing eye-catching, professional WordPress Pages and site will be really simpler than ever before.
How to Create a Beautiful Page with Beaver Builder
We'll start with the Beaver Builder plugin, not the topic.
When working with Beaver Builder, you can choose one of two routes:
Choose from one of the available page templates.

Go to your WP Admin, open an article or page (or create a new one), and go to "Page Creator" in the editor.
For method 1, you can choose between landing pages and content pages:
In general, landing pages are used for marketing and sales purposes (for example, for your homepage, product page, or other sales pages). Content pages allow you to create attractive pages and team pages. , Contact pages, portfolios, etc.
The landing pages are well-labeled for a variety of purposes and you will find numerous templates for small businesses, applications, fitness, electronic publications, classic blogs, photo portfolios, restaurants, agencies, and even law firms
Once you have selected your model or start from scratch, it is time to create or change the structure of the page. We will focus on that next.
MAKING A MANUFACTURER PAGE
How content organization works in Beaver Builder (sorry for manual drawing):
As you can see, there is a certain structure here that should make it easier to understand your site if it reappears after some time.
You can have any number of lines on each page.

Each row can be separated into a different number of columns.

Each content block represents a single instance of a content item, such as an image, a text block, or even a custom graphic.
The best news when creating a page is that lines and content items are drag & drop supported. This means that you can take any block of single or line content and reorient it elsewhere, as follows:
Adding new lines and new content blocks are also easy. All you do is the sidebar menu:
Here you can choose between:
Lines (here you also select the number of columns that each line should have)

Basic content modules (audio, buttons, titles, photos, text, videos, etc.)

Advanced content modules (call to action, accordions, contact forms, galleries, maps, testimonials, social buttons, etc.)

Contents of the WordPress widget (You can use any widget you have enabled on your WordPress site, which means that Beaver Builder works with the content generated by other add-ons).
After all, you can always customize or even change the model you work with, without losing the content.
When you're done with your work, just click Done in the top right corner. Beaver Builder will publish the changes.
In general, editing content in Beaver Builder works really smoothly and easily, which is surprising given the experience I've gained with the tools of the contest. Plus, interacting with the builder is really fun, and you can easily get results that would otherwise cost you a lot of hiring a designer.
Features:
Compatibility With Any Themes:

Here this page builder plugin is compatible with almost every WordPress along with your custom designs too. Beaver Builder also comes with its own theme.

Fronted Editing:

Beaver Builder also comes with the fronted editing option that will let you directly develop and edit all of your website layouts and contents right on the frontend editing.

Pre-Made Templates:

This plugin also comes with many inner-page and pre-built homepage layouts. And if you don't want to build your site from the scratch then you can go with the pre-designed templates. All of the layouts are completely customizable right with this builder.

Drag and Drop Interface:

It comes with full drag and drop functionality right for this amazing page builder plugin. Now with this amazing feature, you will get full control over all of your page layouts.

Mobile Responsive:

Here all of the pages that are developed with Beaver Builder will be completely mobile responsive.
SEO Optimized:

It has the industry standards like code compression and also the HTML that truly indicates that all your pages will be search engine friendly.

WooCommerce Compatibility:

It is fully compatible with WooCommerce Plugin.
Beaver Builder comes with the pricing options:
$99 Standard– All Module, No Theme, 1 Year Support
$199 Pro– Beaver Builder Themes, Multisite Compatible
$399 Agency: Multisite compatible with the network settings, themes
Pros:
Easy to use visual page builder

Optimized for fast loading and SEO

Compatible with all WordPress Themes

Modules are easily customizable.

It comes with 30 days refund policy.

Full mobile responsive pages, with the mobile editing

Incredible tech and community support and online resources

Basically supports core and third-party WordPress widgets along with the shortcodes.
Cons:
The free version lacks many features

High pricer than competing WordPress page builders.

Pro versions should also be included modern design elements.
Elementor Review
Elementor is one of the best page builder plugins for WordPress that has various styling options. Basically, this plugin offers many features with its free version than any other page builder plugins out there in the market. Right with Elementor, you will also get front-end WordPress drag and drop page builder along with the live editing and also the fast loading pages.
Here the free versions consist of 100+ templates, advanced design features along with animations, and a bunch of widgets that are basically called Elements. And these include counters, images carousels, icon boxes along with Google Maps, and many more things.
When you will upgrade to its pro version you will be able to enjoy more and more functionality and also 20+ additional elements, WooCommerce support, visual form builder. And here with these amazing page builder plugins, you will be able to customize all of your blog posts, incorporates slide along with the global widgets and Custom CSS, and more in a row.
Design WordPress sites with Elementor
Elementor is an easy-to-use WordPress page creation add-on with a visual drag-and-drop interface. It comes with many elements that help you easily organize the content of your page with drag-and-drop tools.
The add-on does not require encoding to configure the settings and create pages.
With more than 900,000 active installations, it is one of the most popular WordPress page generators on the web.
Create publications and pages using Elementor.
When you add a new page or edit an existing page in your page editor, you'll see Edit with the elemental button at the top of the WordPress editor. Just click on it to start the Element Editor.
This will take you to the Elementor Editor interface as shown in the screenshot.
On the left side, the elements or widgets can be dragged and dropped. You will find the parameter bar under the elements. To add new content, click Add New Section or Add Template in the content area.
A section is a design block with one or more columns. If you choose Add New Section, you will be prompted to select a content structure for your new page. You can choose from 12 types of sections as shown in the screenshot.
After you have selected the structure of your page, you can select a section layout and drag elements into the columns of the section.
As shown in the figure below, you can edit everything in the editor on the left and view the changes live in the content area.
If you want to use predefined templates for your page, click the Add Template button. It has access to more than 300 predefined templates, named pages, and blocks in the Elementor library.
Features:
Drag and Drop:

Elementor basically includes the fastest and the most stunning editor in WordPress. Just drag and drop and simply customize your site.

No Coding Required:

You will reach high-end designs just without writing any single line of code. The best part is that the resulting page is compact and already optimized for any of the websites.

Inline Editing:

Now simply type straight on the screen, just by using the inline editing feature. Here this will really make a writing blog post and any other content is really easy and leveraging.

Widgets: Just choose from dozens of widgets in order to create any content you need. Such as the Buttons, headlines, forms along with many more things.
Template Library:

Just choose from more than 300 pre-designed templates that are basically designed in order to fit in any of the industry.

Mobile Editing:

Here you can switch to mobile view and simply tweak almost tweak every element just to look stunning on any device.

RTL Ready:

Basically this page builder plugin is multilingual and it also offers almost full support right to LTR and RTL languages.
Elementor Pricing:
Elementor also comes with a robust free version and if you really want to access tons of amazing features then you should go for its pro version. These packages basically include one year support along with updates.
Personal:

$49 for 1 site

Business:

$99 for 3 sites

Unlimited:

$199 for unlimited sites
Pros:
Comes with Robust free version

30 days money-back guarantee

It will save your elements as global widgets

Fully responsive comes with mobile editing

Can embed widgets anywhere right on your site

It has fast front-end live design and inline editing

Supports core and also third-party WordPress widgets
Cons:
Updates don't come very frequently and some of them are also not even reliable.

Many of the users report compatibility problems right with their WordPress themes.
Thrive Architect Review
Basically, Thrive Architect is the successor to Thrive Content Builder. And really this one is a stunning WordPress Page Builder Plugins right out there in the market. Thrive Architect is the new entry into the WordPress Page builder plugins. It has conversion-focused features and it really gives all of the marketers a fantastic tool in order to boost the website visitors and also sales.
Thrive Architect also integrates well with all of the leading and top email marketing services. This one is on the last of the list because it really needs some kind of work out. Basically, Thrive Themes is also known for not providing good customer support.
In reality, this amazing plugin Thrive Architect gives some serious competition to Beaver Builder and Elementor. Here you will not get any free version but they do offer a 30-day money-back guarantee.
Starting with a blank page
Sometimes it makes more sense to create your page from the ground up, starting with a blank canvas. For example, you may like the design of a page that you have seen on another website, and you decide to create something similar.
Let's look at three of the powerful and flexible design elements that you can use to create your page.
Do not worry, I'll show you the other incredible items later.
1. floor in full width
Adding a full-width background does not seem like a big deal, but you will not find it in all page builders.
The key parameter here is "Content covers the full-screen width", as you can have a full-width background regardless of the WordPress theme you are using.
There are several other parameters that I have used to create this background. First I added an image as a base layer and then applied a solid layer to it. This helps you if you want to add text like the following header.
You can add as many layers as you want to achieve the desired effect.
Before you leave the fund, there is another function that you can show. With a full-width, two-column background, you can create a vertically split-screen effect:
If you split your design vertically, you can add different content elements. For example, you can create a picture and text, a video camera, a screen capture, and many other combinations.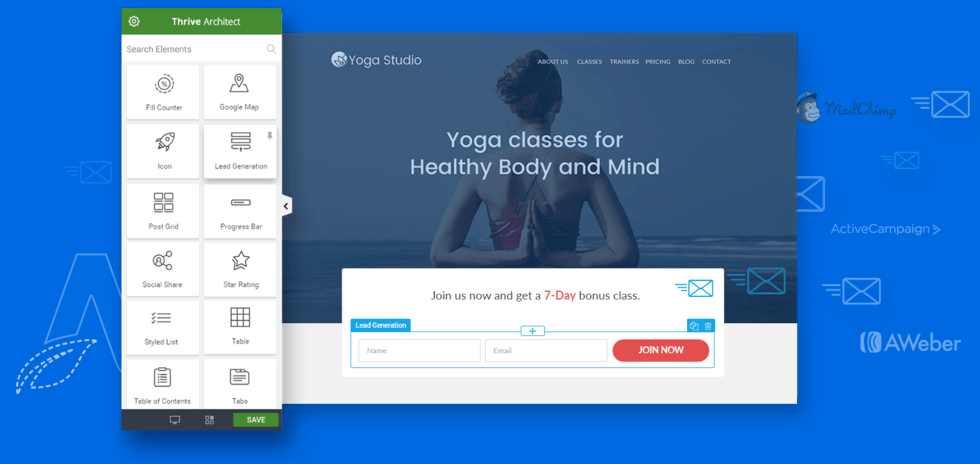 2. Content area
The content area is a dual-use design element in Thrive Architect. It serves as a content container containing several elements that you want to treat in the same way. You can also use it to highlight important parts of the content.
First, we have a content area that contains a symbol and a text: Nothing special, maybe?
However, you can use the drag-and-drop gesture to move the content area to the background area.
If you've created a content area that you believe will be useful in the future, you can save it as a content template in Thrive Architect. All of this is part of his fast-paced implementation ideology.
3. Certificate
Adding credentials to your page is a proven way to demonstrate social evidence. Thrive Architect has more than 30 test templates that you can customize:
Let's take a look.
Chic Light uses two columns for image and text. You can drag and drop the column widths to customize the image and text to your liking.
The right column contains two text/paragraph elements, each with a different font and size. The left column contains three icons/pictures that you can edit.
With this template, you can change the width of the columns, the colors, the images, the symbols, the positioning and more.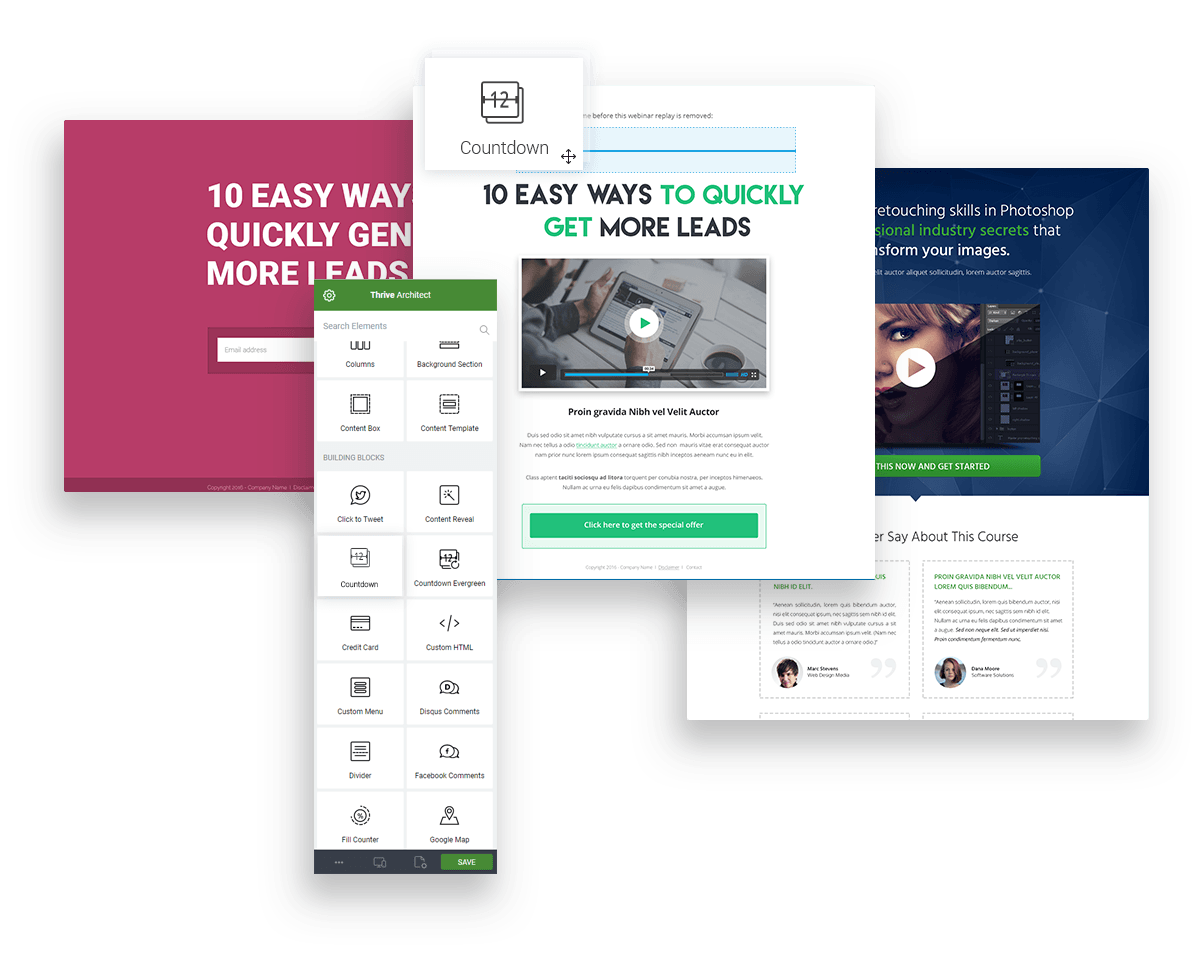 Thrive Architect Features:
Drag and Drop Editing:

Right with this amazing plugin you will get the most amazing features called Drag and Drop editor. Simply "click-to-edit" and change everything you want. Here if you want to move something then just click and simply drag and drop.

Landing Pages Templates:

Really no coding skills are required here and it comes with more than 236 beautifully designed landing page templates and all of these are conversion-focused and all these you will get with Thrive Architect.
Pre Built Conversion Elements:

It comes with conversion-focused elements that are basically built to Thrive Architect. It mainly includes the customizable buttons, testimonials along with countdown timers and also the lead generation forms, and more.

Ultra-Flexible Column Layouts:

Just create column layouts simply drop elements next to each other. Just change the layouts and also simply add, remove and drag and drop resize columns anytime easily.
Thrive Architect Pricing:
Here Thrive Architect is for a one-time license fee that generally provides unlimited lifetime updates. And here support is also included for one year and here you can also just renew your support just by paying a small fee.
1 site:

$67

5 sites:

$97

15 sites:

$147
Pros:
Provide 224 conversion-focused landing pages

It is fully responsive to mobile editing

Comes with the 30-day money refund policy

Stunning backgrounds and animations effects

Easily affordable with a one-time license fee

It has 20+ integrations and it also includes social media and email marketing services.

Comes with pre-built conversion elements like customizable buttons, testimonials, countdown timers along with lead-generating forms.
Cons:
Lacks global saving

No free Version Provided

Customer support is not that much good

Little buggy as they work out with new software
FAQs for Beaver Builder Vs Elementor Vs Thrive Architect
👉Which is better Elementor or beaver builder?
Beaver builder does not have few features which Elementor pro has. Elementor Pro has some advanced customized options and solutions like a visual composer. But Beaver builders also excel in other areas. As it saves time to create custom layouts.
🔥Is Elementor the best page builder?
Elementor is the user friendly and easy to understand program. It comprises of many free features as well. It is a self-explanatory and DIY platform for creating awesome page designs.
👍Is Beaver Builder free?
Beaver Builder package starts from $99 per year and the Pro version is $199 per year. The standard package consists of many themes including the free ones.
✌️Does Elementor slow down your site?
Elementor is a good solution in many areas but it reduces the user experience, increasing bounce rates of your site and damaging google ranking
EndNote: Best Detailed Beaver Builder Vs Elementor Vs Thrive Architect: In-Depth November 2023
Now we have reviewed all of these top-notch Page Builder Plugins for WordPress with its Pros and Cons along with many other factors. Now it's the time to decide which one is the best, here I would like to say all of these plugins will really help you in creating attractive websites right on the WordPress platforms.
In particular, Beaver Builder leads Elementor and Thrive Architect right with its amazing features, add-ons, and also third-party integrations and also good support. You can use Elementor if you want to have some outstanding features and easy to use interface. But here Thrive Architect also gives tough competition to these two-page builder plugins and Thrive Architect is the complete value for money.
So, we listed the best page builder plugin for you on the list as follows:
This one is our preference but it all depends on your preference and requirements when you will be choosing any of these WordPress page builder plugins.
Do let us know which one is your favorite page builder plugin and which one would you like to pick- Beaver Builder Vs Elementor Vs Thrive Architect right in the comment section.