There are numerous of sites which are showcasing Web Design. What actually this Web Design Inspirations means? You must have heard of terms like Minimal Web Design, or some thing like eCommerce Web Design. What these actually mean to you. Web Design Inspiration are the sites which have attractive design and interface, which makes you love the design at the first sight.
With the help of Gorilla Marketing, we have gathered top 10 sites which showcase Web Design Inspiration. You can find every kind of Design Inspiration for your next project on these sites, like dark web design, corporate web design, minimalist web design and much more. Some related articles you can have a look on.
WebDesign-Inspiration is premium web gallery where each of the submitted design are carefully chosen. A lot of beautiful creative blogs and sites are listed there. WebDesign-Inspiration mainly focuses on usability, great contrast, clear message and creative designs.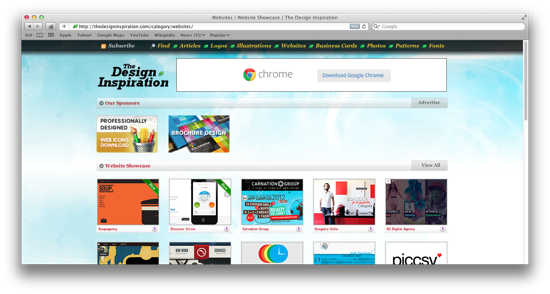 The Design Inspiration is huge database of Web Design showcase, Illustration Arts, Creative Photos, Logos and much more. On TheDesignInspiration, you can find a lot of cool, creative and well designed sites for inspiration.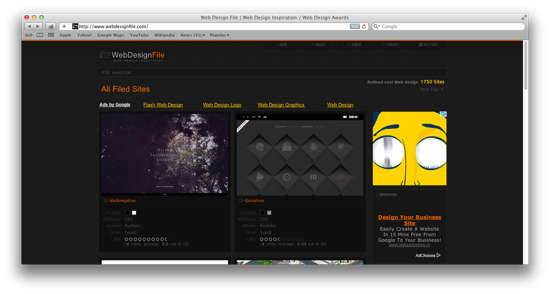 WebDesignFile is somewhat new, but in a short time, there is a lot of good stuff to get inspired. A lot of sites for inspiration, whether it is minimal web blogs, or static web design, you will find it a good source of web design inspiration.
As the name says, SiteInspire is all about source of Web Design Inspiration. SiteInspire is showcase and CSS gallery featuring the best and the most creative web design examples.
eduStyle is another fee source for Web Design Inspiration. But apart from normal web design sites, it focuses and showcase college websites for inspiration. All the websites on eduStyle are college websites with most creative design.