With the growing up trends in Social Media, Marketing is another term which is growing too fast, for small publishers as well as large businesses too.
If you are a blogger, or publisher, you must be knowing how much is it important to plan twitter strategies, because twitter works well if you want to getting traffic. Even other Social Sites, like Facebook and Delicious doesn't give that mush exposure as that of Twitter.
Social Media is the biggest industry to power bloggers, otherwise the hope of blogging and start-ups is nowhere. Social Media is helpful in every way, it increases conversions for Businesses and brings traffic for publishers, helping them making money.
So, do you want to lead ? Are you ready to boost up your Social Media Referral Traffic from Twitter ?
An Ultimate Guide, compiling from Strategies to Tools that makes Marketing on Twitter easy and effective.
Why You Need Twitter Marketing ?
Why would you spend time in something that doesn't help you.
Twitter Marketing, why I need it ?
There are like millions or trillions or even more bloggers on the earth. The Niche of Blog you are running is not special, is it ?
So, to distinguish your blog from these billions of blogs and rank higher, you need marketing strategies. Twitter Marketing is the one, and the most important.

Because either you are running a business online, and you need to increase sales or increase the conversion rates. Or you are a publisher or a blogger who is running a blog and need exposure.
Also read: Upviral Black Friday & CyberMonday Discounts 
What's your Current Twitter Marketing Strategy ?
So, what actually you do with your Twitter Account now.
You can push your answer in the comment section too.
You must be having an Official Twitter Account for your Blog or Business. Please don't mess personal and professional accounts.
Other thing, you should be doing is tweeting your Landing Pages, or newer blog posts, either once or twice or more times with different text. If you want to get benefited with Twitter, you need to do extra-ordinary things with Twitter.
Effective Twitter Marketing – How to do ?
Your twitter marketing plans should be effective enough otherwise it will be of no use.
So, here are the list of things we should learn to do.
Managing Twitter Accounts
You maybe having one Twitter Account, or two or more than two. So, how you manage more than two twitter accounts at once ?
Managing Twitter Accounts is not an easy task, and if you are power twitter user, then you must be knowing how much difficult it is to keep all the accounts updated and managed well.
Mac Users :
I recommend Official Twitter App for Mac which allows you to manage different twitter accounts at once, and notifies you of mentions, DMs and other things too.
Windows Users :
If you are running on Windows, then I would recommend Tweetdeck for Windows, which has got perfect interface and functionality to manage all your twitter accounts.
You should read all the mentions, which I think you are already upto. You should reply to every Mention. It helps you to engage users with your content.
Free Twitter Marketing Tools
Obviously you would not like to pay for apps and tools that even freewares can perform. If you would like to use premium marketing tools, go for Tweet Adder.
Tweet Adder is one of the best application, available for Mac as well as Windows, lets you manage any number of Twitter Accounts. Tweet Adder is fully automated, so nothing is better than this if you are ready to pay for it.
Most of us don't like to spend on such things. We have a lot of Web 2.0 Apps which helps us to automate our Twitter Accounts.
Have you heard of Twitter Feed ?
Its the Web App designed to automatically publish tweet to all your twitter accounts whenever you publish new content on your blog.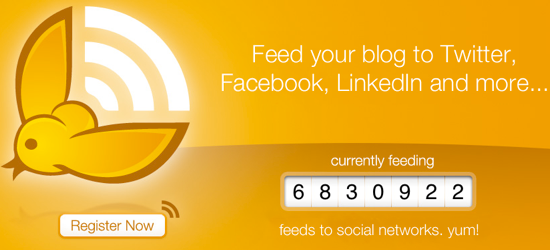 Not only Twitter, it also spreads your content on LinkedIn as well as Facebook. And you don't have to do anything for this, its fully automated.
To manage your followers, there is again a lot of web apps for that. You should have as much followers as you can, though this statement has on exception.
Never try to get irrelevant followers on twitter.
With irrelevant followers, I meant the Twitter Users which are not related to your niche or topic. Because having them in your followers list will not benefit you in any way.
Irrelevant followers will never click on your links, because your topic is not related to them. So, try to get targeted followers who below to your blog's or website's niche.
If you already have bunch of followers that do nothing but just +1 your followers list, then you should unfollow followers like these.
If you want to do something like follow a lot of people belonging to a particular niche, there are again number of apps for doing that. If your twitter account is new, you should mass follow users in your niche.
And, for getting the best out of your twitter promotion, you should use One-Click Tweet Links. Whenever someone clicks on that link, he will automatically redirected to make a new tweet with your link.
Link Promotion – Easy and Effective Way
Link Promotion is the most important part of Marketing your Business or Blog on Twitter. A link, can be your affiliate link, or a landing page, or your blog post you are focusing  to increase traffic.
Affiliate Marketers use Twitter to drive traffic to their affiliate links, and they get many sales with it too. But only those get success who do Link Promotion on Twitter, the effective and efficient way.
If you are running a blog, and you want to drive simple traffic from twitter, then use Tweetily WordPress Plugin. Its the only WordPress Plugin which directly increases your traffic from twitter using automated tweets.
It automatically tweets all your posts, including old ones and helps you receive direct referral traffic from twitter. You can do same with your business blogs too.
If you look at my official twitter profile for DesignSkew, it has got only around 250 followers, though they all are relevant followers and they do click on these automated tweets.
After using this plugin, I am getting around 50 visits a day, only with 250 followers.
So, I recommend you to use plugin. See I have only 250 followers, if you have thousands of followers, it will give much more better results.
You can see my twitter profile, after every 5 minutes, my account auto-tweets two posts from DesignSkew.
You know Triberr ?
Triberr is the Web App for Social Sharing, on Twitter, Facebook, and LinkedIn. Most people don't know about this site yet, but this is much helpful for those who want to get more exposure using their Social Profiles.
Triberr System is based on Cross Promotion of Articles, just like your promote mine, and I promote yours. It is simple and effective.
You can get a lot of tweets to your posts using Triberr. But you need to share other's posts too. You can Join My Social Sharing Tribe here.
Engaging your Followers, the Easy Way
Nothing can be better if you engage your Twitter followers with your content.
As soon as any of your followers replies to your original tweet about your blog post, you should reply thanks with some diplomatic questions related to your tweet.
Keep on engaging your followers like this way, or your own way. This will help your content to diversify among your followers of followers.
So, how actually engage your followers with your content. It isn't an easy task.
The simple way to start this is to mention people which are related to your link.
So, if I my link is related to Facebook Tutorial, or Facebook Trick, then most likely I would like to mention my link to All Facebook. Truly saying, this strategy works most of the time, and it helps you multiply your reach.
Another most effective strategy is to create controversial content and spread it on Twitter.
Quick Links
Conclusion
Twitter is heavy site, with a lots of users. Its isn't that hard to go viral on Twitter, though it isn't easy too.
What you need to do is use the above mentioned strategies and tools, and you will definitely get better results.
Please don't forget to share about how it worked for you in comments below.