The Thesis Statement is the name of our first Thesis 2.0 Skin out of the box. You can Download this Thesis 2.0 Skin free from our Thesis Skin Page. I am little excited to release this skin, as this is first skin from me for Thesis 2.0 Theme which is recently released.
This is a basic blog layout theme, and can be used for all kind of blogs, including food blogs and others too. Its simple, minimal with good typography and clean color combination.
Since when the Thesis 2.0 was released, I was curious to get used to with the Framework and work with it easily.
Being True, initially I found myself suffering while doing things with Thesis Statement Skin, and I could not actually explorer Thesis 2.0 fully. I then started to give time to the framework, I spent a lot of time and also missed up my college to get things done with Thesis 2.0 Theme.
Here is what I have done with Thesis 2.0 Framework. There are not a lot of feature, its just a perfect theme you would need to run a typical blog.
I must say its really a powerful framework to work with. You can do anything with this framework. This is what I have done with it.
Thesis Statement Skin
As told above, its not like superman or something, its just normal blog layout built with love.
I used Georgia font which is the best font for readability and its combination with Arial makes it much more cleaner and easy to read. This is a 2-column Skin, which is, I can say Perfect for Blogging.
It has got Pixel Perfect Typography. Don't Believe ? See This screenshot. check out this detailed  generatepress vs astra.
You can change its font by installing and customizing the Skin further using Skin Editor. Though I would suggest you to use the Georgia only, no font can give you such a good readability.
How to Install this theme ?
Just move to Thesis Dashboard and click on Thesis Skins under Skins menu.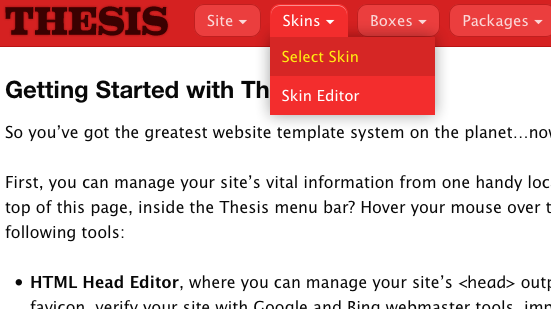 Then Click on Upload Skin and choose the download zip file and upload it. A new skin will appear named Thesis Statement, just activate it and you are done.