Pros
Ttaught by expert instructors
Awesome customer success team
Influential open source projects
Course updates are absolutely free
Expert-level certifications
Cons
Linux Foundation courses focus on Linux systems and environment, which means you don't learn about other types of systems
The free courses are not very detailed and only give you basic information about the subject.
As the Linux Foundation is the home of Linux and other major open source technologies, no other firm is as close to these projects as the Linux Foundation is, and that is visible in the quality of their course content.
This is an article on The Linux Foundation Training Review 2022 with free training and certification courses that would really help you through your IT essentials and create an impact over your IT world of yours – be it office or any other workplace.
I would also discuss the platform which offers these courses and that too very efficiently so that you don't have to worry about the acceptability of the course. So, do have a look, in case you are IT savvy and wish to brush your talent more.
The Linux Foundation Training Review 2022: Best Linux Training and Certification
The Linux Foundation is a group, or you can say an organization of choice for the world's top developers as well as companies to build ecosystems that would boost open technology development and industry adoption too.

The company has joined hands with the world's best open source community to solve problems by creating the largest shared technology investment ever made in history.
The company was founded in 2000, and since that day, it has touched new heights every day. Linux Foundation provides tools, training, and events to scale any open source project, with which you can make an impact that would be economically brilliant.
Linux Foundation Projects:
Linux Foundation hosts several projects under them for the companies and also gives advanced training in Linux.
As a company, you can host or start a project with the

Linux Foundation with few or more developers as you wish.
The company handles various types of projects such as; Community Projects, Community + Funding projects, and umbrella funding projects.
Training At Linux Foundation
Linux Foundation is always there to help companies and businesses to learn how to use open-source software to create new opportunities, products, and experiences for their companies.
You can get a solution to every need as well as budget with a wide range of courses that are available on Linux.

Linux has been very successful in making Open Source Training easy with a variety of training methods. Some of them include:
Online Self-Paced Course
This course has both payment options – paid as well as free, and so it is a very cost-effective way to gain actionable skills.
And not just this, it also offers unparalleled flexibility as you can learn at your own pace, as they understand that a person involved in the business has a lot of other things to do too, and so you also have the option to learn from anywhere in the world.
Public Instructor-Led Classes
The instructor-led courses have proven to be the gold standard in open source training programs.
So, what this is, is in-depth training with a live instructor who can easily explain complex topics or those areas where you have some doubts as well as specific questions to make sure that you can instantly apply your new knowledge into your desired field.
Custom Corporate Classes
No matter what you are looking for – be it a single course to get your team to take the speed that you want them to acquire or be it an ongoing training program for your entire company, trust Linux Foundation for the job done.
Contact the team as soon as you can and they are more than willing to help you and make you learn more about their customized corporate training options suiting best for your business needs and requirements.
Linux Foundation Courses And Pricing:
There are a plethora of courses to choose from in the Linux Foundation training. The courses for Linux foundation with pricing are given below:
Developing Applications for Linux ($3150)
Linux Kernel Internals and Development ($3150)
Developing Linux Device Drivers ($3150)
Kubernetes for App developers($3150)
Linux Security ($2950)
Linux Performance Training ($2950)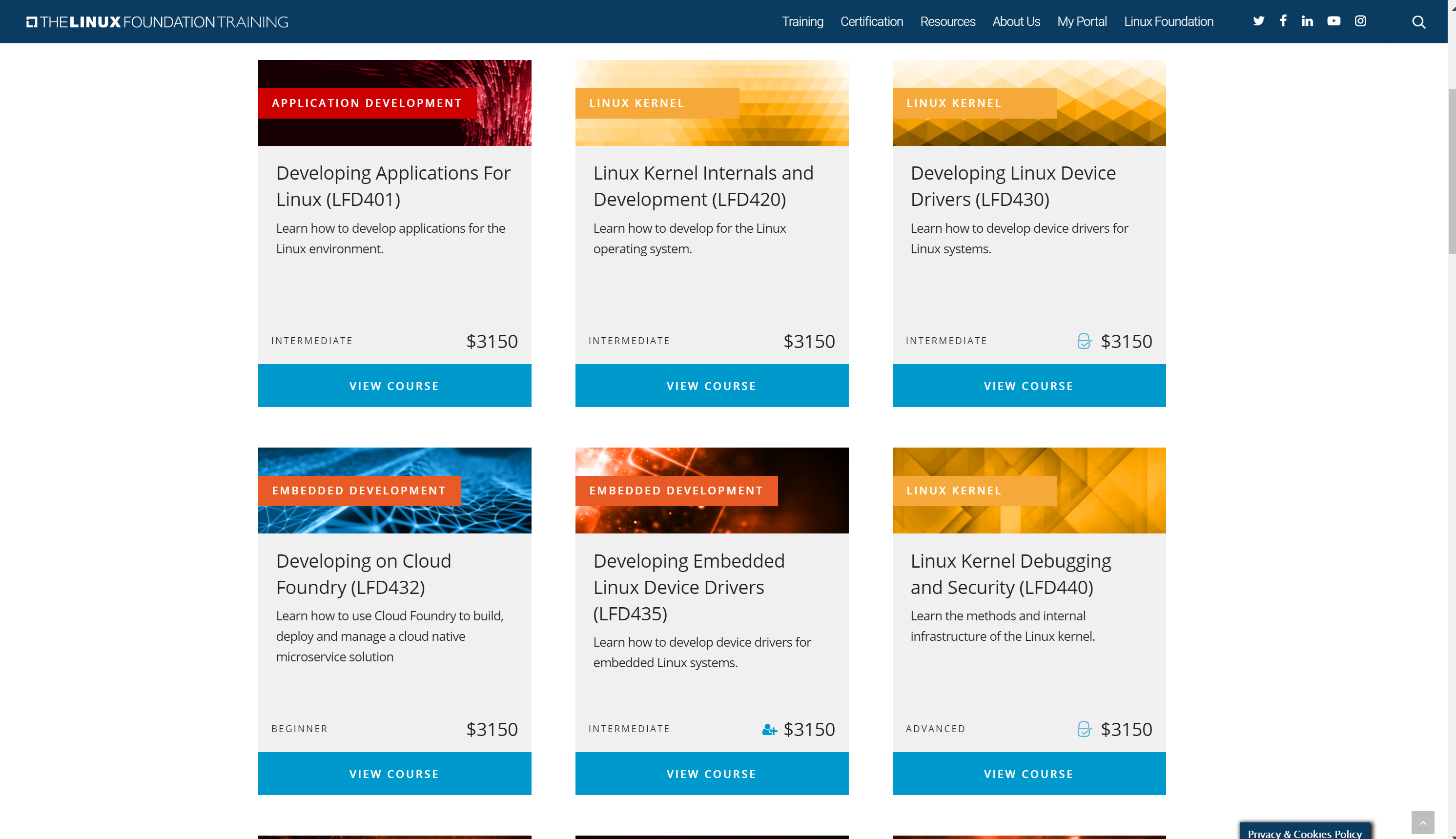 And one thing that is most important to mention here is that the company is not all about Linux, they have taken over new projects as well such as Kubernetes, and they have also expanded their training courses, as they have a wide range of most in-demand courses around some great careers in the technology world.
For more information regarding the best-suited course for your career plan see their "Plan your Training" page which would surely help you through.
Some of these career areas include Cloud, Networking, System Administration, Linux Kernel Development, Embedded Linux Development, Containers, and a lot more. Go, and search for your ideal option now.
Certification At Linux Foundation
The Linux Foundation has been working closely with open source project communities around the world to deliver relevant, respected, world-class, and hands-on certifications to all the technology professionals around the globe to help them give a boost to their businesses.
What is the most unique thing about Linux is that they not only provide the certifications for today's most in-demand technologies, but their involvement goes far beyond that, this is their vision?

They have been hosting projects developing these technologies, and also provide resources and staffing to help keep these development communities healthy as well as striving for what they were set up. So, when the talk is about this down, no one is as close as the Linux Foundation itself.
Why Should You Get Open Course Certified?
Because there is nothing wrong with boosting your confidence in the skills you do have, all you need to do is just improve it a bit more, as studying to pass the certification will also help you to identify and fill the voids in your current knowledge of the course.
Also, hands-on certifications show proof or validate that you can perform real-world tasks. So, do not just tell others that you have the skills, give them the proof too.
This not only brushes your knowledge but also increases your chances of getting that job that you have been wanting for so long, as certifications are a priority everywhere.
Why Certify With Linux Only?
The certifications here are designed to fit your life, not the other way around and they would give you a learning experience that no other platform can.
The Linux Foundation exams are available worldwide – via any internet-connected computer, no trip to the testing center is required anymore, and the online training courses are mapped to exam objectives to help you succeed even more.
Linux Foundation has been providing expert-level certifications for the projects creating the best cloud and container technologies that are available in the IT world today.
Resources at Linux Foundation
When it comes to resources, and those too rich ones, Linux is really great in providing them, be it the wide range of free courses, webinars, tutorials, or even publications that are undoubtedly going to help you a lot in exploring the open-source technology scenes.

Linux Foundation Free courses
The platform has a range of free courses that you can enroll yourself in and take advantage of the features offered by them. Some of them are:
1. Inclusive Speaker Orientation
The course is designed to help with all the necessary and essential background knowledge as well as practical skills to promote inclusivity in presentations, messaging as well as other modes of communications too.
2. Compliance Basics for Developers
If you are a software developer or a producer, then this course is ideal for you, as it would teach you why it is important to add copyrights and licenses to your code, and not just this, you will also learn how to do so.
3. Blockchain: Its uses and Implications
Here you would get to know what exactly Blockchain is, its impact as well as the potential to bring a change around the world, and analyze its uses in technology, business, enterprise products, as well as different institutions.
4. Introduction to Open Source Networking Technologies
If you want to adopt SDN, NFV, disaggregation, orchestration, network automation, as well as modern networking in your workflow, to increase efficiency and productivity, then, this course is for you as it would teach you the fundamentals of all these. And you will discover the use cases and technical options for open networking.
5. Introduction to Apache Hadoop
With the overview of Apache Hadoop, you will be able to unlock the power of big data and also get hands-on practice setting up your own Hadoop instance.
Linux Foundation Webinars
There are a lot of webinar options that you can take advantage of at the Linux Foundation platform that would help you brush up your knowledge even more. Have a look at some of them:

1. Introduction to OpenStack
This session of the webinar will provide you with an overview of the OpenStack and its components which includes even a live demonstration of an OpenStack Cloud and covers best practices on the first deployment.
2. Write a Real Linux Driver
In this tutorial webinar of Linux Kernel Developer and Linux Foundation fellow, Greg Kroah-Hartman discusses writing USB kernel drivers, with a practical demonstration, which undoubtedly is going to be of great help to you, trust me.
3. Migrating from UNIX to Linux
If you are looking to move to a Linux environment, this video would help you gain some insights on that. These webinars would demonstrate how high availability is provided in software vs. hardware, solutions for automated deployment, and software life-cycle management.
4. Linux Performance Analysis With Perf
Explore this topic along with Perf. You need to gain visibility into the performance hotspots which would help you to gain the largest improvements if you want to tune systems and applications for speed.
Linux Foundation Tutorials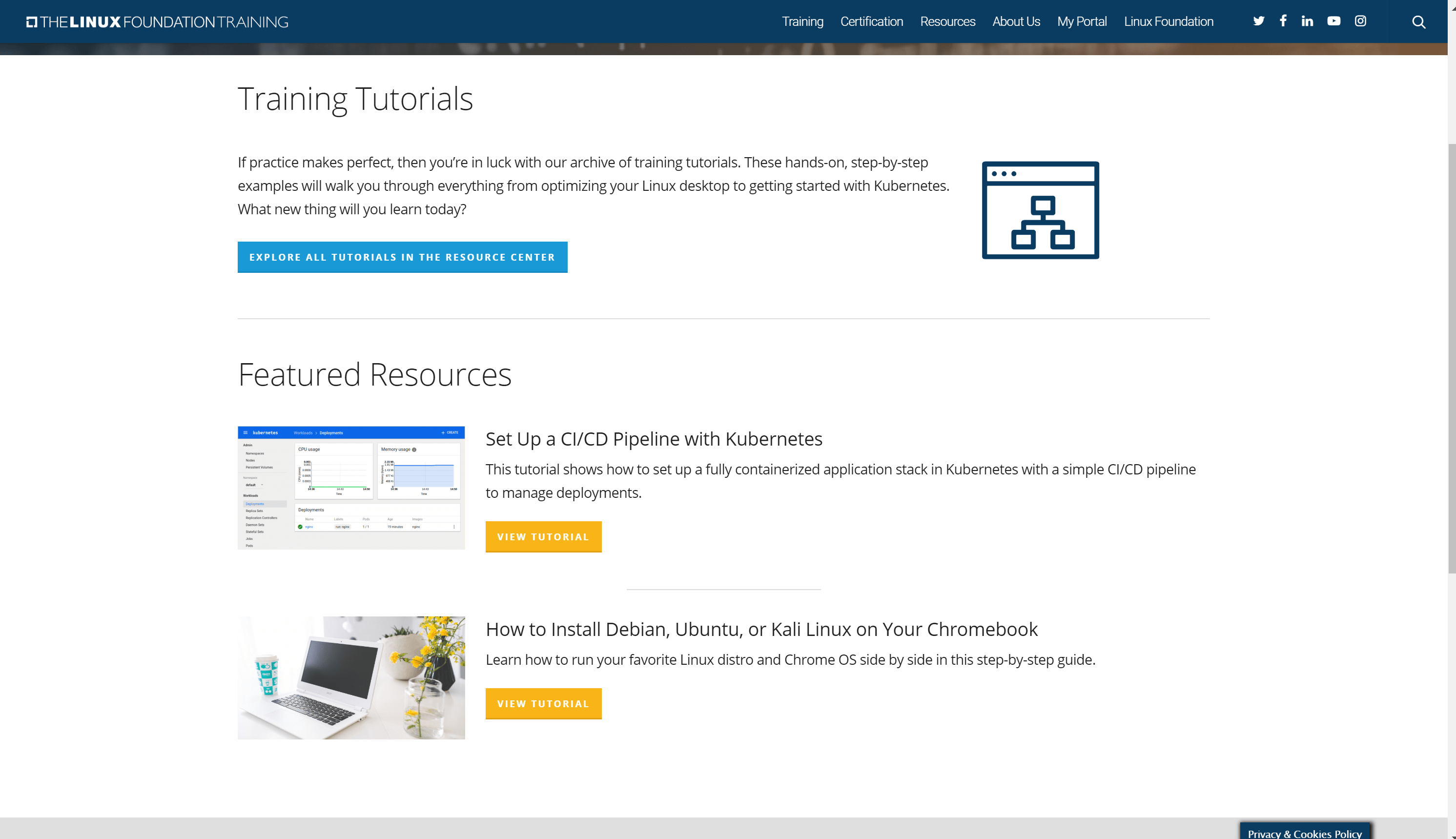 There is a range of tutorials that you can go through at Linux Foundation that can prove to be really helpful in blooming your career opportunities, as well as brushing up your capabilities and skills. Have a look at them:
Here you will learn how to use the find command so that you can locate files on your Linux servers as well as desktops without the need for a GUI.
2. Getting Started with Kubernetes is Easy with Minikube
If you are unaware of the Mini Kobe, then it is an all-in-one solution that you can use to quickly get started using Kubernetes.
3. An introduction to the SS Command
Here you can learn how to use the SS command to gain information about your Linux machine and see what's going on with the network connections.
4. How to Install and Use Docker on Linux
This article will show you how to easily install Docker on Linux and get you started with the first steps of working with Docker. And this would make the whole process easier in a way that would seem far more convenient to apply in your workflow.
Linux has launched CommunityBridgeprogram to help in advancing sustainability, security, and diversity in open source. This has been empowering developers all across the world.
The Linux Foundation supports the creation of sustainable open source ecosystems by providing financial and intellectual resources, infrastructure, services, events, as well as training, and it is the largest shared technology investment.
Why Choose Linux Foundation Courses?
The Linux Foundation curates courses and training programs that are developed and taught by expert instructors, most of whom are well-known and respected developers in the open-source community, and their certification team also performs a comprehensive job and industry analysis just to make sure that every certification professional program that is being offered at their platform meets the exceedingly high standards that need the IT industry today. Just to make sure that you get what you are paying for.
And all of this is combined with the awesome customer success team at Linux Foundation which helps in ensuring that the team can deliver responsive support and customized training solutions to each and every individual who join them so that they can succeed in their respective businesses, whatever it is.
Obviously, such a big thing cannot be achieved alone, there is a whole global network of authorized training partners with them, with whose help, they can deliver training in more places around the globe.
If you are doubting, or have second thoughts about diving into the more advanced courses that they have curated, they have also partnered with edX.org to offer you all over a dozen free online foundational courses in some of the most demanded technologies, so that learning technology can be made more accessible for all.
All in all, the company is your stop, if you have been searching for a platform that could provide you with quality courses that could help you give your career a boost, as well as brush up your technical knowledge a bit.
You may also like to read:
Conclusion: Is Linux Foundation Training Worth It?
As the Linux Foundation is the home of Linux and other major open source technologies, no other firm is as close to these projects as the Linux Foundation is, and that is visible in the quality of their course content.
The company does not sell anything, but training. And that is why they are not pushing any particular product or service that would result in vendor lock-in so be relaxed about that.
Unlike many other training providers, Linux keeps its courses with the most updated versions of the software that you are learning about, as well as course updates are absolutely free.
The hottest technologies that are offered by Linux Foundation help stay at the edge, and they host the fastest-growing and most influential open source projects, also, they are the first to release courses about these fields.
Also, the courses at Linux Foundation are curated and taught by expert instructors who are some f the top developers and practitioners in open source.
The courses at Linux are developed with feedback from the massive community of open source practitioners and companies, which helps in keeping the courses as per the current needs of the business environment.
All these features and perks combined together are more than sufficient to convince you of the benefits associated with learning at the Linux Foundation.
This was our detailed review of the Linux Foundation courses and training programs. Join and get the benefits of being a member here.