I am a Photoshop Addict and I just upgraded to Photoshop CS6. I was searching for tutorials to try out with the New Photoshop CS6 and I found some common tutorials that I am already familiar with. Got bored with old Photoshop Tutorials ? Here's are some new photoshop tutorials for you. I must say, Adobe is giving Photoshop a good edge, every new upgrade is just fantastic and its easier to work with the tools and layers now. The New Photoshop works faster than the previous version.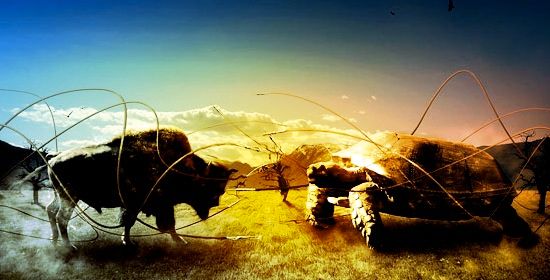 Trying out new tutorials makes easier to work with advanced elements and, video tutorials works better than written tutorials. So, its better to learn tutorials watching the youtube video or any video, you can download these youtube videos and have access to it anytime whenever you feel or have problem applying the tutorial. So, you will have fluency in gaining photoshop knowledge easily and perfectly. We have some brilliant guys over Youtube who are creating screencasts of New Photoshop Tutorials. I will be sharing some tutorials which you will definitely like to try out. I recommend you to get these youtube videos in your hard drive for better results.
Before getting started, here are some more related articles, Tron Photoshop Tutorial, Photoshop Skin Retouching Tutorial, Photoshop Free Cloud Brushes and Photoshop Text Tutorials, which you may like.
Fake Desaturated HDR Effect Photoshop Tutorial
Want to make normally captured photos in HDR effect ? You can try this tutorial and you will learn how to created HDR Effect from normal photographs.
Create Clean Glossy Logo with Photoshop CS6
As the title says, you can learn how to create clean and glossy text effect or logos easily after seeing this video. Make sure you have CS6.
Photoshop Collage Tutorial
Give Collage Effect to your Photos easily by watching this video.
CS5 Water-coloring Tutorial
If you are wondering how to give your photos a water-colored effect then this Youtube Tutorial is for you.
Glow Text in Photoshop
Create Glow Text Effect easily, it will help you learn typography techniques too.
Vintage Effect
Give your photos a Vintage Effect,its simple and short photoshop tutorial you should try out.
Make Wings on Your Image
Give your photos wings, this tutorial will helps you make wings using Photoshop.
Forrest Fairy Speed Painting Effect
I heard this effect first time, but its pretty good how it is created. You can create fairy forest effect watching this tutorial.
Change Eye Color
How to change eye color in portraits and other photographs is demonstrated in the video.
Neon Text Highlights
This tutorial focuses on how to highlight a simple text with neon effect.