Web Designers and Developers who go into the World of Freelancing, needs motivation for their future. You need to work from home maintaining all the aspects, making your living from your Designing capability. We have most motivational quotes for Designers from Designers for surviving in life.The list have motivational quotes for designers.
Motivational Quotes for Designers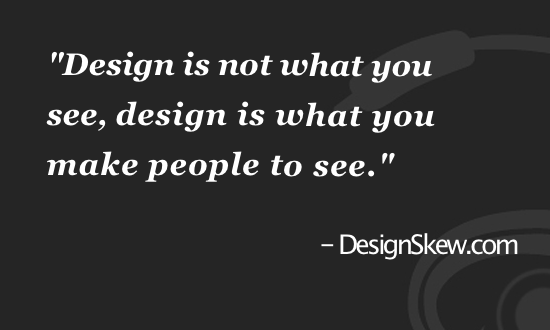 Good design is obvious. Great design is transparent.
— Joe Sparano
Every designers' dirty little secret is that they copy other designers' work. They see work they like, and they imitate it. Rather cheekily, they call this inspiration.
— Aaron Russell
Design is where science and art break even.
— Robin Mathew
Design is the application of intent – the opposite of happenstance, and an antidote to accident.
— Robert L. Peters
Design should never say, "Look at me." It should always say, "Look at this."
— David Craib
The design process, at its best, integrates the aspirations of art, science, and culture.
— Jeff Smith
Good design is a lot like clear thinking made visual.
— Edward Tufte
People think that design is styling. Design is not style. It's not about giving shape to the shell and not giving a damn about the guts. Good design is a renaissance attitude that combines technology, cognitive science, human need, and beauty to produce something that the world didn't know it was missing.
— Paola Antonelli
Behavioral design is all about feeling in control. Includes: usability, understanding, but also the feel.
— Don Norman
Being a famous designer is like being a famous dentist.
— Noreen Morioka
It's art if can't be explained.
It's fashion if no one asks for an explanation.
It's design if it doesn't need explanation.
— Wouter Stokkel
I love the comment, "You must love designing for a living." At that point I usually start to laugh or break into uncontrollable tears.
— Andrew Lewis
Designers have a dual duty; contractually to their clients and morally to the later users and recipients of their work.
— Hans Höger
A common mistake that people make when trying to design something completely foolproof is to underestimate the ingenuity of complete fools.
— Douglas Adams
A camel is a horse designed by a committee.
— Sir Alec Issigonis
Technology over technique produces emotionless design.
— Daniel Mall
A design isn't finished until somebody is using it.
— Brenda Laurel
The life of a designer is a life of fight: fight against the ugliness.
— Massimo Vignelli
Graphic design will save the world right after rock and roll does.
— David Carson
Practice safe design: Use a concept.
— Petrula Vrontikis
Create your own visual style… let it be unique for yourself and yet identifiable for others.
— Orson Welles
Truly elegant design incorporates top-notch functionality into a simple, uncluttered form.
— David Lewis
At a meta level, design connects the dots between mere survival and humanism.
— Erik Adigard
Many things difficult to design prove easy to perform.
— Samuel Johnson
Design is easy. All you do is stare at the screen until drops of blood form on your forehead.
— Marty Neumeier
The only important thing about design is how it relates to people.
— Victor Papanek
Designing a product is designing a relationship.
— Steve Rogers
Good design is good business.
— Thomas J. Watson Jr.
Design is in everything we make, but it's also between those things. It's a mix of craft, science, storytelling, propaganda, and philosophy.
— Erik Adigard
Design is not what you see, design is what you make people to see.
— DesignSkew.com
These were some motivational quotes for designers, which ultimately give some message for you to develop. You should notice the last quote in this list of motivational quotes for designers, its by me. I am in the field of designing since 2 years, and got some experience. With this experience, I concluded the one line quote "Design is not what you see, design is what you make people to see."
I hope you will get some motivation from this collection of motivational quotes for designers, and if you are designer and you are freelancing at the same time, then these quotes are must read for you.