Getting Likes on Facebook Statuses, Photos ad Videos is not an easy stuff. Facebook is growing day by day and at the end of March 2012, Facebook announced their 901th million users. Among these 901 million users, approximately 550 Million users are active and use facebook almost daily. Isn't that big numbers ? Yes,of course they are.
These users are just social networkers but if you are blogger or publisher or marketer, then these users can act as Audience for you if you use Facebook in right way. In this tutorial, we are not going to use any kinda promotion services or any way of buying stuff. What we are going to share here with our readers a simple trick or say observation that works almost 90% times if you make it attractive.
(Image Credit : Flickr)
Get Facebook Likes on Status and Links
Here is the premium tip you are waiting for, and it is, the use of IMAGES. Using Images can increase the Interaction of the user with your status to about 70%. And if the user gets attracted towards your status or link and spends time to read it, he will surely like it until unless the content you are sharing is good. The content you are sharing also matters and usually trending and useful stuff get more likes and shares on Facebook. So, make sure you share the content that you think users can click and like.
What Doesn't Work
If you are a blogger, then you must be having the Facebook Like button attached on your blog posts and pages so that users can easily like your articles right from the blog. But here is something you need to know, that only 10 to 30 percent of users visiting your blog posts and pages hit the like button.
How Should I Get Likes on Facebook Statuses
You have been discussing that is not practical at all. Show me something that I can do now and get the results. This must be the question you are asking for. Here is some practical work for you to do and get some Facebook likes on your status and links.
Do what the following points are saying and do the exact and see if it works or not. Hope you will not mind one status update to test, and you will see it really works.
Navigate to your Facebook Feed after logging into your account and click on "Add Photo/Video" tab and choose the most attractive and relevant photo related to the Status you are going to Update. We recommend to not to get Images from Google Search, instead you can get such Images from Stock Photo sites or you can make your own screenshots.
Try updating the same status and see how the user Interaction level with this update of yours. You can attach some funny picture with this update. You will surely get many likes in this update if you have a good base of Friends on your Facebook Profile. If you are having problem finding a funny photo, we have already picked up the best one.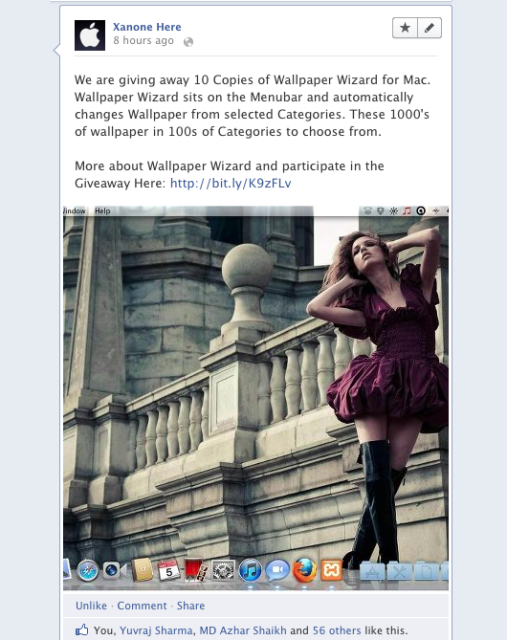 For Getting Likes on Links, you should never share your blog posts via Like button, atleast not the blog owners. The trick also will help you getting some straight traffic to your blog. Add a photo which is related to your post link and it should be eye-catchy. Just write some convincing status with the photo and don't forget to attach a shortened link to your blog post. This works as I am doing it from quite good past.
Conclusion
So, check your status now, you must have got likes. If not, then you must be having a short list of friends which are not that active. But even if you don't have much friends, you have an alternative. You can try updating the status on Groups and Pages having good number of Members.
You can see in the above Screenshot, I have updated the same status that I want you to share , and in just 22 minutes, I have managed to get 45+ Facebook Likes.